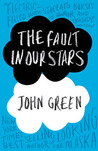 The Fault in Our Stars by John Green
My rating: 4 of 5 stars⭐ ⭐ ⭐ ⭐
View all my Goodreads reviews
Buy Online: Flipkart, Amazon
Hazel Grace and Augustus Waters live a brief 300 and odd pages but forever in our hearts. The book starts out with a sour Hazel attending a support group for people with Cancer , where she meets Augustus, a self-assured seventeen year old. The Fault in our Stars is the non-cancery (as Hazel Grace would put it) side of their story. The adorable quirks and witty exchanges make the couple adorable. It is evident from the beginning how beautiful their chemistry is. Gus and Isaac's friendship is to die for (no pun intended).
Although neither of our protagonists has crossed adolescence, their profound knowledge on life and death, Humanity and the general existence of the world makes me wonder. Characters like Hazel Grace and Augustus Waters are really hard to come by in real life, but hey surrealism is the essence of fiction. John Green's optimism in giving us such positive and non-superficial teenagers is a rare treat for those of us who aren't big fans of frivolity in Death.